Corporate Finance Strategy
Step by step model of our consulting
A sound corporate finance strategy leads to the need for professional project management. This in turn leads to concrete transaction advice. Paul Putz & Partner is your competent partner in this three-part process.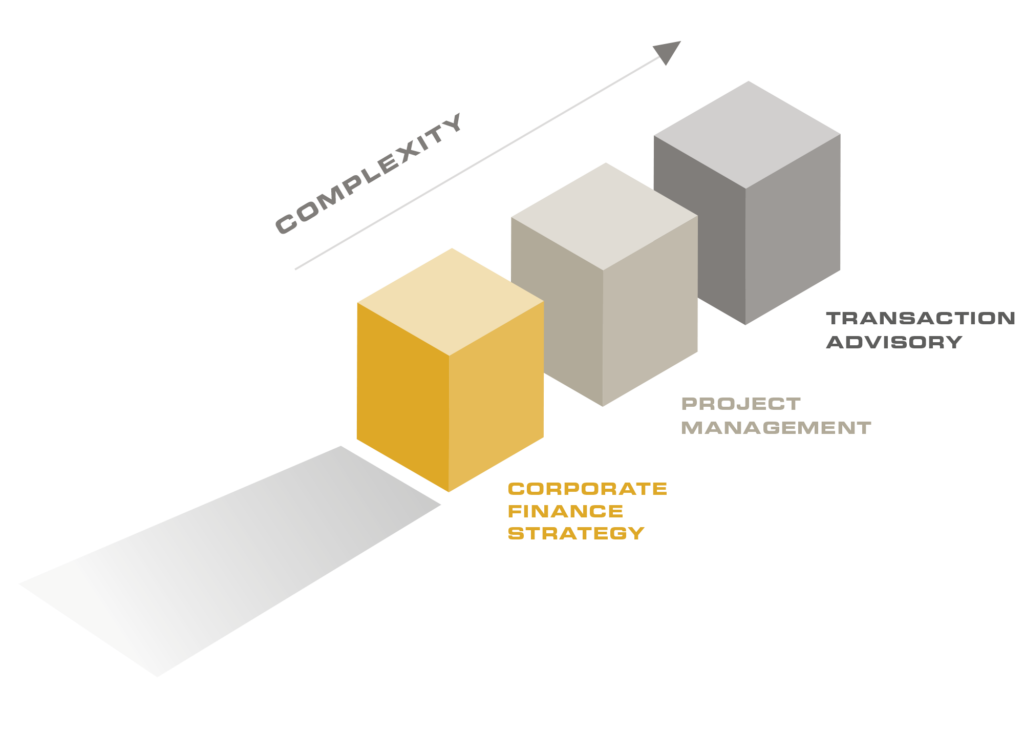 cORPORATE fINANCE STRATEGY
GROW TOGETHER
Paul Putz & Partner understands the options available to companies and develops a made-to-measure corporate finance strategy together with the client. In this process Paul Putz & Partner is a long term partner and distrusts quick and easy solutions.
Each enterprise is at a different development stage. Our consulting approach is based on an extensive analysis focussing on your needs and shows the options available to your company. The optimisation of your financing structure and the ability to increase the value of your enterprise are the centre of our attention. As opportunities on the financial markets may arise or your needs may change over time, a corporate finance strategy can never be final. On-going monitoring and optimisation are needed.
A sound corporate finance strategy is the basis for any project or transaction you might want to pursue in the future. It is therefore an integral component of Paul Putz & Partner's graduate scheme of advisory services.
PROJECT MANAGEMENT
GET IT ON TRACK
The actual implementation of complex corporate finance strategy can cause problems for companies focusing on their daily business and growth. Paul Putz & Partner has a long-standing experience as project manager and takes over the management of projects before critical situations occur.
Excellent project management based on a sophisticated corporate finance strategy is the basis for any transaction. Especially SMEs usually do not have the in-house resources to stage a full scale project management operation. Often good ideas go wrong because of these inadequate project management resources.
Paul Putz & Partner makes sure that your corporate finance strategy is professionally implemented and projects are managed according to state-of-the-art standards. In close co-operation with our clients we find made-to -measure structures and procedures to run challenging and complex projects according to plan. At Paul Putz & Partner project management is our bread-and-butter business.
TRANSACTION ADVISORY
FINALISE IT
In many cases a corporate finance strategy involves or leads to transactions (M&A, IPO, Corporate Bonds). Paul Putz & Partner boasts a proven track record as advisor in these crucial situations and leads the client through the maze of capital market transactions.
Transactions have their very own peculiarities and sticking points. Things can go wrong quickly and one-off opportunities are easily missed. When pursuing a transaction it is therefore imperative to have an experienced partner by your side.
Based on the corporate finance strategy we help you to finalise the transactions which can make all the difference for your company – issue a corporate bond, acquire a competitor or aspire an IPO.
Paul Putz & Partner has worked on a number of successful corporate finance transactions in several countries over the last decade